Round-Up is my very occasional feature where I share my favorite story and media related articles from the interwebs with you! 
Emma Approved
I am super excited about this! The same team that brought The Lizzie Bennet Diaries will soon be tackling Jane Austen's Emma with Emma Approved! In this version of Emma, the title character is an entrepreneur and, of course, a self-proclaimed match-maker. I watched the first few episodes of Welcome to Sanditon, the Lizzie Bennet spin-off, but it ended up boring me, but I am expecting that Emma Approved will be great! 

Loving YA Books as a Grown-Up Adult
HarperCollins shared a great blog post from a member of the EpicReads team about why, as a grown-up adult, she loves young adult fiction and what she feels it has to offer adults. If you're a fan of YA (as I know most of my blog readers are), then check it out!
Cress Cover
Speaking of young adult, have you seen the new cover for the next installment of The Lunar Chronicles, Cress? The long hair! The red ribbon! (It seems red is a theme on these covers… hmmm…) Can't wait! I haven't read the first chapter yet, but it's posted out there on the web. Google for it if you're less lazy than me! I've heard great things about it!
The Abuse and True Meaning of Dystopia
As I mentioned in a recent post, the word dystopia gets tossed around a lot for stories that aren't truly dystopic. And I understand, I'm guilty of it too, but I do think it's important to recognize the true meaning of the word. Shanelle at The Tracery of Ink elaborated on the matter further, and I would encourage you to check her post out!
Blogging News
I mentioned in my mini-review of 1984 that I would be elaborating more on the final act of the book, where the main character is tortured, in a future post. Tentatively scheduled for Friday, I will be posting a comparison of the torture scenes in 1984 with the Star Trek: The Next Generation episode Chain of Command, Part II. It was only a matter of time before I did a post like this where I compared something in a book I read to Star Trek! But I'll be bringing in some psychology as well, and yes it will be nerdy, but I am so excited and hope you guys will enjoy reading it.
Book Aquistions
I finally took advantage of the sale at Epic Reads for the Pivot Point e-book for $1.99, and will be buying What's Left of Me pretty soon (as in, once it's out in paperback later this month). I was going to pre-order it on Amazon yesterday but… long story. I've heard some good things about Pivot Point, and since parallel universes are on my mind thanks to a certain TV show I have been watching, I thought it was worth checking out. I'm going to be discussing What's Left of Me with some fellow blogging friends online and am looking forward to reading a book about clones.
And I was excited a few weeks ago to find out I won four autographed books by one of my favorite authors, Jon Acuff! I already had two of the books (though one of them just as an e-book), but not the other two, and plus to have them autographed was exciting! I won them by filling out a survey on his blog, and was hoping to win the grand prize of a ticket to his upcoming conference, but I'm pretty happy with my "consolation prize."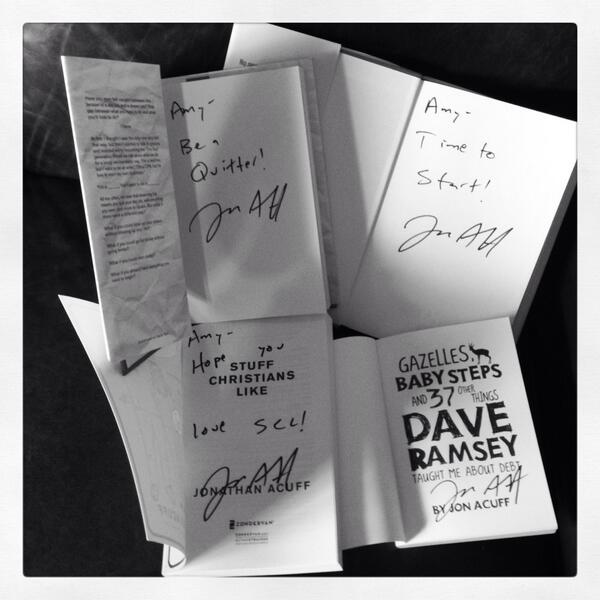 Looking forward to reading the two books I haven't read yet! Stuff Christians Like looks absolutely hilarious.
Who else is excited about Emma Approved and Cress? What are your favorite true dystopia reads? What books have you acquired recently?